How to Add a Job
How to Add a Job after the Job Costing Initial Setup
Once the Job Costing Initial Setup has been completed, you can add Jobs to be assigned to employees. To add a Job, follow the instructions below:
1. Click
to open the Global Settings
2. Click Job Costing to expand the options and select Job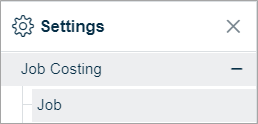 3. Click
and select Add
4. Enter a Name and select Team Assignments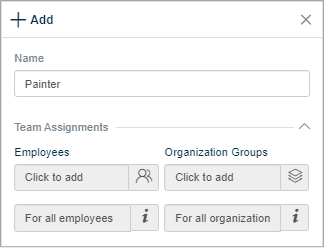 Internal

(standalone job option)

* Only appears if Projects are enabled

Does this Job belong to a Project?
Setting
Description
Name
Display name of the Job
Employees

Click to select individual Employees to be assigned to the Job
All employees are selected by default, as indicated by:

Organization Groups

Click to select Organization Groups to be assigned to the Job
All Organization Groups are selected by default, as indicated by:
5. Click

to assign the Job to the Employees/Organization Groups
* The option to select a Job will appear when adding time as a manager or clocking in/out as an employee
Application
* Jobs will be displayed on the Timesheet after adding time or clocking in/out with a Job selected

View/Area/Activity
Image

Manager view

Employee View

Employee View

Employee View

Employee View

Time Clock - Clock In/Out