Reporting Hours Overview
Reporting Hours is where all of the methods that employees use to report time are managed.
How to navigate to Reporting Hours:
1. Click the Global Settings Cog Wheel
2. Click Time and Attendance to expand the options and select Reporting Hours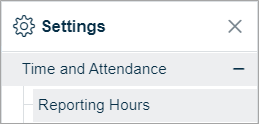 3. Select an Assignment Scope. To learn more, see The Assignment Scope Hierarchy
Company – Applies to the whole company
Group – Applies to a group of employees such as a particular location or department
Employee – Select one or more employees for individual application
4. Select or create a rule name
5. Pick a Rule Effective Start Date (When should this rule go into effect?)

6. Clock In/Out Type dictates the interaction of the employee when clocking in and out
User Selection – The user will be presented with 3 options: Clock In, Clock Out, Start Break
Quick Punch – If this method is used and the user does not have a break assigned, automatically allocates an IN or OUT.
7. Daily Hours Allocation: Select the Hours Allocation for overnight employees
Where Hours Fall - Cuts at midnight
Leading Day - Hours will be allocated to the day of the clock IN punch
Trailing Day - Hours will be allocated to the day of the clock OUT punch
8. Use the check boxes to activate one or more reporting methods for the assignment group

Each checkbox activates the respective reporting method. Select an article below to learn more:
9. Select the Group or Employee(s) for the selected assignment group (if applicable)
Company is automatically applied to all employees
10. Click

to add the new Reporting Hours rule