Groups Overview
How to add Groups and an overview of the related settings.
If you don't see Groups listed in the

Global Settings, please contact us. Support: 1-888-783-1493 | Create a Ticket
Groups Overview
What is a Group? A Group is an Assignment Scope that contains specific instances within the scope. For example, you could add a Group called "Management" and add instances to the Management Group such as Team Leads, Assistant Managers, or Supervisors.
There are 3 Assignment Scopes that are used for assigning rules within the software: Company, Group, and Employee.
How to Add a Group
1. Click
to open the Global Settings
2. Select Groups
3. Click

and select Add
4. Enter a Name and configure each setting as necessary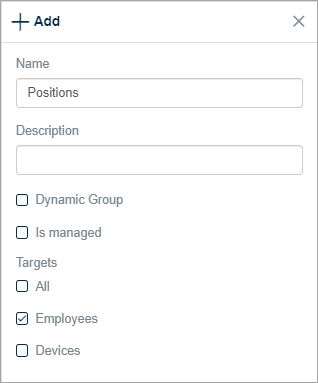 | | |
| --- | --- |
| Setting | Description |
| Name | Display name of the Group |
| Description | Group Description |
| Dynamic Group | Conditional grouping calculated on a daily basis. |
| Is Managed | Enables you to choose a management level for this group |
| Targets | |
5. Click

6. Click the new Group to Select it
7. Click
and select Group Structure
8. Click
9. Click
and select Add
10. Enter a Name
11. Click

The new Group will appear In the Left Nav under Organization Groups